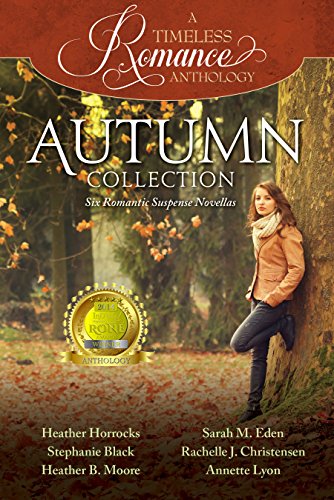 Publisher:

Mirror Press

Available in:

ebook, Audiobook, Paperback, Audio CD

ISBN:

B00E9V32H4

Published:

December 5, 2013
ebook Available Here
Audiobook Available Here
Print Available Here
A HOUND DOG NAMED ELVIS by Heather Horrocks
Interior designer, Kaitlin Hartley returns to her hometown of Aspen Grove, California, to the job of her dreams after a year of specialized training in New York. During the town's Autumn Festival, she enters her dachshund, Elvis, into the Running of the Hallowieners race. Joshua Moore, the man who hadn't wanted her to leave Aspen Grove, but hadn't waited for her either, enters Elvis's sister, Priscilla. When Kaitlin gets home afterward, she realizes Elvis has left the building—with Joshua. She has the wrong dog! Can she get her dog—and the man she's never stopped loving—back?
EYE FOR AN EYE by Stephanie Black
Mallory is just getting her life back together, living with her sister and brother-in-law and starting college. After a difficult few years following a family tragedy, she's finally ready to move forward, which includes getting to know the charming Darien better. But when illegal drugs turn up in her sister's drawer, the first person accused is Mallory, and suddenly she doesn't know who to trust. She turns to Darien, but with all evidence pointing at her, she doesn't know if Darien is the man to save her.
FIRST HEIST by Heather B. Moore
Mia, an undercover agent is about to make a handoff to co-agent, Omar Zagouri. But before she can complete her assignment, her cover is blown, and she finds herself escaping with Omar. The only problem is, her boss warned her about Omar and his sketchy history of landing himself in the middle of danger. After losing her mother in an attack planned for Mia, pulling off any heist with a man like Omar is the last thing she needs for her career . . . or her life.
LETTER FOR TWO by Sarah M. Eden
Sophia looks forward to the 5:30 p.m. mail sorting she does with her next door neighbor, Ethan. They live in a renovated house, now split into two apartments. Ethan is one of those dreamy, smart guys, but he shows no interest other than being friendly toward Sophia. When they find a mysterious letter addressed to Eleanor, dated to 1953, Sophia and Ethan determine to solve the puzzle together. Sophia knows that spending evenings with Ethan in 'research' might be her only chance to convince him that she should be more than just a neighbor.
SILVER CASCADE SECRETS by Rachelle J. Christensen
Jillian is the master landscaper at a beautiful park. Meeting Travis there soon after breaking up with her boyfriend, Jillian is wary at first. Travis seems like a great guy, but Jillian had fallen for great guys before. When she learns that his brother, Craig, was murdered six months before, her heart goes out to Travis. True to her curious nature, she starts asking questions and learns about Craig's close connection with the park. But finding the answers puts Jillian's life in danger, and she must decide who she really trusts.
CHOCOLATE OBSESSED by Annette Lyon
Whitney, an executive pastry chef, is working her resort's booth at the New York Chocolate Show. The only problem is that she shares the shift with her arch rival, Stephen. But then an unexpected visitor shows up: Jeremy, a man who lost a dessert competition she judged. When Jeremy confronts her and becomes threatening, Stephen gets Jeremy dragged off by security. But that doesn't throw Jeremy off for long; soon Stephen and Whitney are running for their lives.
Autumn Collection is a Timeless Romance Anthology® book