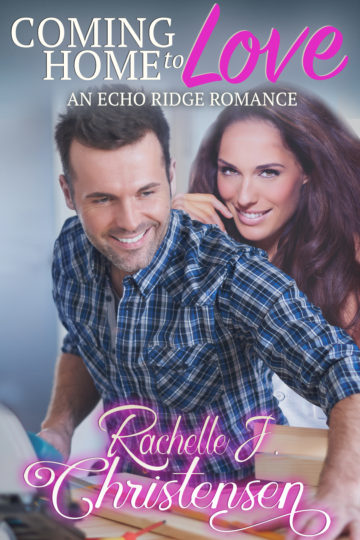 Publisher:

Peachwood Press

Available in:

ebook, Audio, Paperback

Published:

May 1, 2018
ebook Available Here
Audiobook Available Here
Print Availabe Here
When Laney Richins left Echo Ridge, New York eight years ago, she vowed she'd never return, but life had other plans. Those plans included her cute little boy and a divorce, so Laney moved back home and started over. Working in the flower shop seems like the perfect plan until Billy Redford, the man she should have married shows up.
Billy Redford's heart was broken when his high school sweetheart turned her back on him and fled Echo Ridge for the big city lights. Running into Laney in Echo Ridge now brings up past feelings he thought were long gone. She's prettier than ever, still seems to read his mind, and despite his protests ends up on the building and decorating committee with him for the Homecoming dance. Billy knows how to build just about anything, but he isn't sure he knows how to mend a broken heart.
Echo Ridge Romance Singles (Each book in this clean and wholesome series can be read as a stand alone)
#1 Hope for Christmas
#2 The Kiss Thief
#3 The Princess Bride of Riodan
#4 Coming Home to Love
#5 Her Guy Next Door Fake Fiancé
Thank you for reading!
Here's a sneak peek from this bestselling series!
Chapter 1
Laney Richins adjusted the cellophane around a dozen pink roses and inhaled the sweet scent. If only her life could be as uncomplicated and beautiful as roses. She pulled a crumpled petal away from one of the buds, her fingers lingering on the velvety texture. There was so much that Laney regretted, but like the rose, there was much more to her than the crumpled petals on the outside. With a shake of her head, Laney dismissed that train of thought and adjusted the silver ribbon.
She and her five-year-old son Oliver were happy in their little two-bedroom apartment. Happy to be far away from her ex-husband and just down the street from Grandpa and Grandma Richins. Laney didn't even mind the brunt of the summertime heat and humidity as August descended on Echo Ridge, New York. After eight years away, Laney had returned to her hometown—the same place she'd spurned and claimed she'd never come back to. She crouched down to snip a few wilted leaves from a fern and ended up sweeping up several of the tiny leaves from a low shelf. She had her head underneath the fronds of the fern when she heard the back door open. Maybe Paisley had forgotten something. Laney smiled, waiting for her sometimes-scatterbrained boss to call out.
"Laney?"
The person calling her name was definitely not Paisley Scott. It was a man, and she would know that voice anywhere, although it had matured to a more sultry tone. Even the note of surprise in the voice was recognizable. She turned slowly toward Billy Redford. His dark blond hair was cut short along the sides with a bit of a wave on top. He stood a head taller than her, at nearly six feet, and his skin was bronzed by the late summer sun. He was the same Billy from her high school days, but even better looking than her memories. His blue eyes widened, as if he hadn't believed it could really be her.
"Billy? What are you doing here?" She stood and brushed stray leaves from her knees, clenching her clippers tight enough in one hand that the handles bit into her skin.
"I came by to take some measurements for the new shelves Paisley needs."
Laney's heart pounded in her chest and her cheeks warmed at the sight of his broad shoulders and the scruff along his jawline. She couldn't figure out why he was measuring shelves for Paisley. The last she'd heard, Billy had graduated from college in construction management. "No, I meant, what are you doing here—as in Echo Ridge."
Billy arched an eyebrow. "I live here."
Laney's mouth dropped open. "Since when?"
"Almost a year ago." He tilted his head. "What are you doing here?"
"I moved back two weeks ago."
"No, I meant what are you doing here—as in Paisley's Petals."
Laney couldn't help but smile. Billy was teasing her just like old times—but no, that wasn't right. There was a look in his eyes that wasn't familiar. The way his jaw tightened as if he were biting back words made Laney take a step back. "I work here."
"Is this some kind of prank?" He turned and looked behind him. "I mean, you don't really want to live and work in Echo Ridge, do you?"
The words struck Laney like a bucket of water. They were words similar to those she'd thrown at Billy several times during their senior year. And then, that summer after graduation, she'd stomped on his dreams of staying in the small town to raise a family. She claimed that nothing could keep her in Echo Ridge and anyone who wanted to live and work there was small-minded.
She pulled her foot along the faded linoleum. "I deserve that I guess, but it's true nonetheless. I'm back in Echo Ridge to stay and I work here." Laney had never wanted to come back to Echo Ridge—the place where she was supposed to marry her high school sweetheart and raise her children. She'd turned her back on all of them, running after Dane and his sugar-sweet promises. She had Oliver and there was no regret there, but she wished she could undo other parts of her past.
Billy opened his mouth at the same time Paisley breezed into the shop. "Oh, hello, Billy. I'm glad you were able to make it in." She flipped her long brown braid over her shoulder and smiled. "I see you've met Laney. She and I were just talking earlier about how nice it will be to have some storage space. It's really nice of you to take this on. I know it's not what Redbuilt usually does."
Laney nodded, wondering if Paisley could pick up on the tension emanating between them. If she did, she chose to ignore it. She took Billy's arm and steered him toward the back wall while talking over her shoulder to include Laney. "Carlos has helped me in the past, but he's swamped and was kind enough to mention you."
"I don't mind," Billy answered. "We just poured the foundation for a new home by Ruby Mountain so my crew can handle things for a few days."
"Wait, who is Redbuilt?" Laney asked.
"It's my company," Billy answered. "Located here in Echo Ridge." His words had an edge to them and Laney caught the underlying jab again.
"That's marvelous. This town needs good construction companies. My parents mentioned how much it's growing, but I didn't believe them until I came home." She winked and was rewarded with a look of surprise from Billy. The bell over the front entrance rang, indicating a customer. "I'll help out front," Laney said. She walked away, knowing that just like old times, she'd been able to throw Billy for a loop. She had a genuine smile when she reached the customer.
Twenty minutes later, Laney finished an impromptu arrangement that Mrs. Tumnus needed for the library board meeting. The flowers were to celebrate Jennifer Staples finishing her degree in library science. Laney had seen her working in the young adult section of the library last time she went in. Once the silver-haired lady had exited the shop, Laney headed to the back to see what help she could offer Paisley. Her stomach clenched as she approached the area where Billy had been working, but her nerves unwound when she discovered he wasn't there.
"Looking for Billy?" Paisley poked her head around the corner. "He took some measurements and he won't be back until tomorrow night. Strange thing, that. Originally he'd planned to work all day tomorrow to get the project done, but suddenly he was too busy to be here during regular hours." Paisley arched an eyebrow in Laney's direction.
Laney shrugged. "That's probably for the best don't you think? Then we won't be tripping over each other."
Paisley snipped the end of a red rose and handed it to Laney. "They say every rose has a story and when it's given in love, the story is about the person who receives it."
"Hmm, I hadn't heard that before," Laney replied. "But you're the expert when it comes to flowers."
Paisley nodded and handed another rose to Laney. "True, you've only been here a couple weeks, but you have a gift with flower arranging, if you'll let yourself see it."
Laney looked down at the two roses, their buds barely beginning to open and spiral outward with velvet petals reaching toward the light. She lifted them to her nose and inhaled. "Thank you."
Paisley handed her three more roses. "If you'll add those to the Hyatt's funeral arrangement, I'll help you finish up."
Laney nodded and walked over to the refrigerated unit that held several arrangements for the funeral. Winston Hyatt had been her seventh-grade science teacher and although he was in his late eighties, it was still hard to come to terms with the fact that people Laney had grown up around were dying. Those precious years of her childhood held magic, memories, and so much discovery. Every person in Echo Ridge had played a part in raising Laney Richins.
Even though she tried to convince herself it wasn't true, she couldn't help thinking that the best years of her life had been wasted and she wouldn't get a second chance to make the right choice. She didn't want to waste the chance this town was willing to give her. Everyone in Echo Ridge had opened their arms to the Laney they remembered, even if she was no longer that girl—everyone except Billy.
Read the rest of the story HERE.