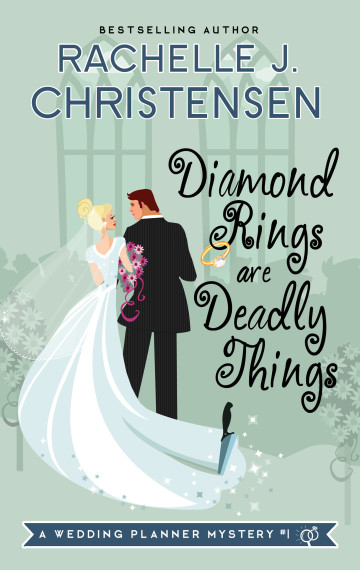 Publisher:

Peachwood Press

Available in:

ebook, Audio, Paperback, Large Print

ISBN:

B011LW1QW6

Published:

July 1, 2014
ebook Available Here
Audiobook Available Here
Print Availabe Here
Adrielle Pyper knows how to plan a wedding, and she's especially good at pleasing bridezillas. But when her biggest client and best friend is murdered just three days before the wedding, Adri's world falls apart. She moves to the resort town of Sun Valley, Idaho, and starts from scratch. Thanks to Adri's impeccable taste and unique style, she lands two celebrity clients, and her business seems headed for success—until someone vandalizes the specialty wedding dresses she imported from overseas. Adri must race to uncover the secret hidden within the yards of satin and lace before she becomes the next victim.
With a delightful blend of mystery, toe-curling kisses, humor, and spine-tingling thrills, Diamond Rings are Deadly Things will keep you turning pages long into the night.
AVAILABLE IN LARGE PRINT!
The Wedding Planner Mystery Series (Each book in this clean and wholesome series can be read as a stand alone)
#1 Diamond Rings are Deadly Things
#2 Veils and Vengeance
#3 Proposals and Poison
Thank you for reading!
Listen to a sample of the audio book:
Here's a sneak peek from this bestselling novel!
Chapter 1
The air was charged with an expectant current as I unlocked the back door of my wedding planning headquarters. Pausing for half a second, I ran my fingers along the smooth vinyl lettering printed in teal on the metal door: Adrielle Pyper's Dream Weddings, Where happily ever after is your destination.  Those words were the realization of a lifelong dream for me, even though I never would have guessed I'd be setting up shop in Sun Valley, Idaho. I had loved my life in San Francisco, but after what happened, I needed to get out of the city and back home to my Idaho roots.
The anxiety that had plagued me for over a year was finally fading. For once, I wasn't afraid to step into the darkened room and flip the switch—the fluorescent lights illuminated everything I'd worked so hard for, and I felt like today might be the beginning of something different. The soft scent of lavender filtered through the air. It smelled like hope.
My assistant, Lorea Zubiondo, arrived at the shop minutes after I came through the back door. Her dark hair looked glossy under the lights, almost black. The short layers were teased in the back—I joked that she was trying to make up for her five-foot-two height impairment.
"Morning, Adri." Her voice sounded chipper, and there was a lightness to her step. I noticed a bit of eyeliner and dark green eye shadow accenting her deep brown eyes and barely kept myself from gaping. Lorea was a no-frills girl, so why did she have makeup on?
I glanced at the clock—fifteen minutes after eight. "You're early today."
"Couldn't sleep." Lorea tugged the measuring tape hanging from her dress mannequin. A few minutes later, I caught her looking at the clock. The eye shadow suddenly made sense.
"Ah, I see why you couldn't sleep. It's Wednesday. Guess I'd better open the front door in case we get a special delivery."
"I'm excited about seeing the dresses, that's all." Lorea's gaze flicked to the clock again.
"Me too." I didn't push the issue, even when I saw the hint of a smile lift the corners of her mouth. My own anticipation buzzed happily in the back of my mind as I turned the locks on the front door. I was ready to embrace this new venture, and I ignored the nagging thoughts of "What if?" that kept trying to creep in and overshadow my visions of success.
I tidied up the front of the shop, winding the satin ribbon in shades of forest green and burgundy on a spool. A customized ring pillow with coordinating ribbon to match the accent colors might be just the thing for one of my June weddings. I tucked an errant strand of blonde hair behind my ear, my fingers brushing my favorite pair of sapphire earrings. With my sketch pencil, I outlined ideas for the ring pillow.
Ten minutes later, wedding chimes rang, and I heard a familiar whistle. Lorea and I hurried to the front of the shop, pushing each other aside in hopes of getting there first. At the last second, I let her pass—she was going for the guy. I just wanted to see if the shipment had arrived. A man dressed in a brown uniform waited out front, holding a scanner.
"Hi, Colton," we greeted the delivery man simultaneously.
"Hi, ladies. Your wait is over." Colton motioned to the long box behind him. "I have a couple more boxes like this in the truck."
Lorea pumped her fist in the air. "They're finally here. I'll sign for them."
Colton flourished his scanner, and Lorea signed, her grin widening. He took back the scanner, studying it for a moment before pushing a couple of buttons. "Zubiondo. I've been meaning to ask you. Where does that name come from?"
"From Spain. I'm Basque." Lorea's face lit up as it always did when she spoke of her heritage. Bonus points for Colton—I rooted for anyone who might improve Lorea's attitude toward dating.
Colton nodded. "That's great. You ever been there?"
"No, but I will someday."
I couldn't be sure, but it seemed like Lorea was on the verge of flirting with the delivery guy. If only Colton would get up the nerve to ask her out. He pushed the large box forward on a dolly, and I pointed to the back of the store. "Can you roll those to the back room so we don't have to carry them?"
"Anything for you, Adri." He followed me and set the box down. "What's in here?"
"Wedding dresses," I said. Lorea ran her hand lovingly over the box and then pushed it farther into the back room. As she ripped the packing tape to open the box, my stomach flipped in anticipation.
"Dresses now, too? I thought you mostly planned the weddings." Colton stopped and surveyed our showroom. "You like to stay busy, don't you?"
"Actually, the dresses are for Lorea. She's getting married this
weekend."
"What?" Colton fumbled with his scanner.
"Don't believe a word she says." Lorea hurried out from the back, carrying a vacuum-sealed package of beads and lace that I was sure made up a beautiful gown.
"But I think she'd look great in that dress, don't you?" I ignored the death stare coming from my friend.
Colton's cheeks flushed. "I'll get the other boxes." He hurried out the door.
"You txori buru! " Lorea reverted to Euskara once Colton had gone. "What are you trying to do to me?"
I laughed—she had called me a birdbrain in her native Basque language at least a hundred times. "Just proving my point." I smirked. "You like each other."
Lorea turned with a huff and went back to unpacking dresses.
Colton brought two more boxes inside, and I kept my mouth shut.
"Thank you, Colton," Lorea said.
"Good luck with everything, ladies." Colton winked at Lorea as he walked away.
I waited until I heard the door close to say, "See, I told you."
Lorea shook her head and pulled out several more bags containing the dresses. "Four, five, and that one makes six." She gestured to the third box. "The last four are in there."
The bag rustled as I opened the tight packaging and pulled out a gown. The dress seemed to breathe as it broke free and I hung it on the clothes rack. My fingers fluttered, struggling with the zipper. For a moment, I wished that Briette could be with me to enjoy this moment. I blinked to clear the moisture in my eyes and continued unveiling the dress.
"Careful," Lorea murmured, edging closer.
Folds of creamy satin hung like graceful dancers surrounded by tulle and sparkle. We both sighed as I unfastened the train. The satin rustled, trailing from the bodice to the floor. A dusting of pearl glitter covered the gown, and intricate beadwork and embroidery adorned the bodice and hem.
"Lorea, this is perfect." I rubbed the satin between my fingers. "Sylvia is going to be so excited to try it on."
I saw her flinch at the mention of our least favorite client, Sylvia Rockfort. At twenty-eight, Sylvia was close to my age, but that was about the only thing we had in common. She was a
soap star diva. Sylvia had had her ten minutes of fame in a now-cancelled soap opera and enough plastic surgery to make sure everyone remembered it.
Lorea kept her focus on the dress. "It's exquisite. And when Sylvia sees this, she'll tell all her friends." Lorea clenched her hand around the necklace she always wore, her thumb tracing each of the four comma-shaped heads of the silver Basque cross she referred to as a Lauburu.  "Her wedding will be absolutely gorgeous."
"Can you believe how heavy this hem is?" I knelt down to examine the beadwork fastened to the thick lines of embroidery. Shimmering rhinestones were sewn in five-petal flower arrangements along the hem. The fancy stitching matched a rhinestone-encrusted clip at the hip of the gown and the tight-fitting bodice. "Sylvia will probably want you to try to take it in around the waist—even if it fits perfectly."
Lorea frowned. "It's a size four, but I'll call her. Should we time how long it takes her to get here for her first fitting?"
"Wasn't she coming in at one o'clock anyway?"
"Yeah, to check on how the bridesmaid dresses are coming," Lorea answered. "I guess she can wait until then."
"If you do call her, I bet she'll be here in less than an hour."
"My bet is on thirty-seven minutes."
My fingers snagged on an uneven part of the hem. "Please tell me this isn't—" I covered my mouth when I saw the gaping hole in the hemline of Sylvia's dress. The frayed edge of the fabric loomed before me, and I felt like I was choking on eighteen thousand dollars, the price tag on Sylvia's gown. Lorea and I were banking on the sale to launch our new dress business.
Lorea knelt beside me and examined the hole. "You'd better pray that Sylvia doesn't stop by for a surprise visit."
My stomach churned. "There isn't time to order another."
"Hang on, we can still make this work." Lorea ran the material through her fingers. The corners of her eyes crinkled in concentration. "Give me an hour, and you won't be able to tell me where the hole was."
"Are you sure?" The hole looked more like a slit in the fabric, about six inches long.
"I have to be." Lorea jerked her head toward the clock.
I followed the motion and cringed. It was nine forty-five. Sylvia had been known to stop by the boutique to start her day. "I'm taking a picture of that damage first. I can't imagine how it could have made it through their quality checkpoint." I stalked to my desk and grabbed my camera. Wriggling my shoulders, I imagined the stress rolling off and melting into the carpet.
Lorea held the bottom of the hem so I could take pictures, and then she ripped the tape off the final box. She stood and surprised me with a hug. "Before I finish unpacking, I just wanted to say thank you so much for giving this dress business a chance."
I returned the embrace. "Thank you.  I think this will give the shop the special flair I've been looking for." I had been reluctant to add one more line of expense to my wedding planning business, but the wisdom of becoming a full-service bridal boutique couldn't be ignored. In my expanded new business, I would plan the weddings and also give the bride the opportunity to buy wedding amenities directly from me. The two meshed seamlessly in the small town of Ketchum, where residents were used to driving more than an hour to get to a large department store.
Lorea nodded. "I can see my dream of someday owning a dress shop coming true."
"Me, too. As long as we're in the same building."
"For sure." Lorea pulled up the flaps of the last box.
My eyes kept straying to the hole in Sylvia's gown. I ran through the conversation I'd be having with the dressmakers in China, and it wasn't pretty. When I opened my boutique, I used every last cent of my savings and borrowed a few thousand dollars from my parents. Adding the dress business was a wise decision, and Lorea was carrying the brunt of the loan for that, but I didn't have a backup plan if it failed. At that moment, I saw just how easily Sylvia Rockfort could ruin me—if she didn't like her gown, then we wouldn't get the coveted endorsement we needed in Country Bride Magazine.  The referral would be wonderful, but if Sylvia decided the gown didn't suit her, Lorea and I would be left holding the bill.
"Wait a minute." Lorea ran her hand along each of the gowns hanging in their individual garment bags. "Please tell me I can't count."
"Um, math isn't my favorite subject, either."
Shaking her head, Lorea began pulling all the packing material from the box.
"What's wrong?"
"There are only nine dresses." Her chin trembled slightly as she hurriedly recounted the gowns. "One is missing. I think it might be the one with the beaded hem."
My throat felt chalky. "The one Sylvia ordered in case she didn't like her gown?"
Lorea kept pulling packing material out of the box. Long strips of brown paper were quickly strewn across the floor. I dropped to the ground and dug through the box. Then I stood and recounted the gowns.
"Let's open up each bag and pull them out. Maybe there are two gowns in the same bag."
Lorea's eyes lit up with hope. "That's probably it."
Neither of us spoke, and the sound of plastic and rustling satin covered the dull roar of blood pumping in my ears. We were working against the clock for Sylvia's wedding, and we couldn't afford to upset her.
"It's not here. I can't believe it," Lorea cried. "Of all the dresses to go missing, it would be Sylvia's alternate."
My imagined conversation with the dressmakers took a drastic turn, but I slowly breathed in and out. "You know what? She's going to love her first choice. You'll steer her in the right direction. Maybe convince her it would be bad luck to try on the other dress when the first one was obviously designed for her."
Lorea's face had red splotches, and she blinked her eyes to clear them.
I pointed at the gown with the gaping hole. "Let's concentrate on one problem at a time. You fix the hole. I know you can work with that diva. I'll back you up."
I knelt next to the box and began tossing the packing paper back in, but I froze when I focused on something caught in the tape lining the bottom of the box. Leaning forward, I reached for the tiny pearl. Three more beads were stuck in the corner. "Did any of the other dresses have pearl beading?"
"No, it was just that one."
"Let's empty the box and see if we can find any more of these beads."
"Huh?" Lorea studied the bead in my hand and gasped as I picked up the others.
A powdery residue hugged the corners of the cardboard. The packing tape glimmered in the light with the same fine particles.
"What's this?" Lorea held up a shiny piece of metal.
My skin prickled with goosebumps. "That looks like part of a razor blade." I closed my eyes, but not before the image of blood trickling down a knife point seared my consciousness. A
foreboding sense of discomfort broke through my dam of positive thinking. A million negative outcomes flowed through my mind, and I felt cords of tension tightening my shoulders. Taking a deep breath, I opened my eyes, commanding myself to stay in the
present and focus on Lorea. "I don't understand. Do you think our shipment was tampered with?"
Lorea tilted the silver blade. "How fast can you get China on the phone?"
Read the rest of the book HERE