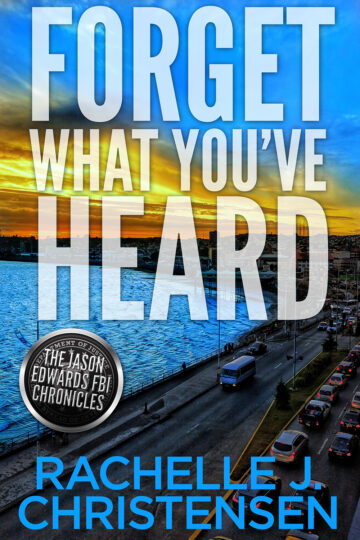 Publisher:

Peachwood Press

Available in:

ebook, Paperback

ISBN:

B0854DCX3H

Published:

March 10, 2020
ebook Available Here
Print Available Here
***NOTE*** This book was originally published under the title, Wrong Number. The author has revised and updated the book and added a new cover and title to reflect these changes.
A cryptic phone call overheard by a pregnant woman makes her the next target for murder.
One small piece of conversation heard by the wrong person changes everything. When Aubree Stewart answers her phone on the way to work, she has no idea that she is now in possession of a dangerous secret—one so powerful that even the Secretary of Defense is in peril. Unable to forget what she has heard, Aubree soon finds herself swept up in a world of danger, intrigue, and murder. With help from the FBI, Aubree races to protect herself and her unborn child, but the one thing she forgets to protect is her own heart.
The Jason Edwards FBI Chronicles (Each book in this clean and wholesome series can be read as a stand alone)
#1 Forget What You've Heard
#2 Forget What You've Seen
#3 Forget Me Not
Thank you for reading!
Excerpt:
Aubree dug through a pile of papers on the kitchen counter, searching for her cell phone. She finally noticed the familiar silver gleam under a stack of bills. She grabbed the phone and touched the screen. Nothing flickered to life and Aubree groaned. Her phone had been acting up lately, freezing and restarting without warning.
"My cell phone died again!" Aubree yelled up the stairs. She heard Devin muttering as he climbed out of bed. "I can't be without my phone today. Do you have time to take a look at this before work?"
Devin poked his head around the corner. "Did it freeze up again?" He ran his fingers through the matted portion of his curly hair and yawned.
Aubree smiled at his disheveled hair. "Can I take your phone today?"
"Sure, honey, no problem. I charged it last night. We might have to get you a new phone."
Aubree frowned. "Hopefully not. Hey, I brought the paper in for you." She tapped the front page. "I'll read it tonight after you've marked it up."
Devin whistled at her just as she opened the door. "Love you, babe."
Aubree turned and smiled at her husband. "Love you too." She blew him a kiss and stepped out into the crisp morning air.
She unlocked the door to her car and climbed inside, pulling the seat belt over her bulging belly. She took a deep breath—seven months pregnant and still fighting morning sickness. Whenever she was too rushed in the morning, her stomach churned. With another deep breath, she backed her car out of the driveway.
She glanced out the window and narrowed her eyes at the sun, wishing it would go into hibernation for a while. The freckles sprinkled across her nose and arms had multiplied over the summer. Aubree brushed her strawberry-blonde hair away from her face and smiled when she felt her baby move.
As she drove along the busy highway to her real estate office, she turned on Devin's phone. She was about to dial into her phone's system and forward all her calls to Devin's cell, when it rang. The traffic light at the intersection turned red suddenly, and the ringing phone slipped from her hand as she stepped on the brake. Lifting it back to her ear, she heard a harsh voice.
"Tidmore did the job, and the body is hidden in the manhole on 32nd Street like we talked about. By the time they find him, we'll be in the green. The intruder will clear the way." His words were followed by a gruff cackle. Aubree's heart raced. If Devin was playing some kind of trick on her, it wasn't funny.
"Hey, don't I at least get a congrats? What's up with you? I even kept his uniform for you."
Aubree cleared her throat. She was about to speak when a horn blared behind her. The light had turned green. She pressed the gas pedal and said, "I think you have the wrong number." The other line went silent. She looked down at the phone and saw that the call had ended.
The man's voice echoed in her head: "The body is hidden . . . 32nd Street." She felt the blood pulsing in her ears, and her hands trembled. Maybe it was a prank call; people were always pulling stupid jokes on each other like that.
Aubree pulled her car to the side of the road. She dialed the number to her house, hoping Devin would answer. After four rings, it went to the answering machine, and she hung up. He might be in the shower, or maybe he had left for work early. She looked at the dashboard clock—7:30 a.m. Devin never left that early. She dialed her own cell number. It went straight to her answering service. Maybe Devin was working on her phone.
She pulled up the number for the police department on Devin's phone. Hoping she wasn't being paranoid, she dialed the number and willed herself to sound calm.
"San Diego Police Department, how may I help you?" A woman's voice greeted her.
"I just received a strange phone call, and I'm not sure if it was a prank. The man said something about hiding a body, and I'm worried."
"Did you recognize the caller's number?" the dispatcher asked. "No, he called my cell phone and I—"
"Did it sound like anyone you know?"
Aubree frowned. "No, I think it was a wrong number." "What's your name?"
"Aubree Stewart."
Read the rest of the story HERE.