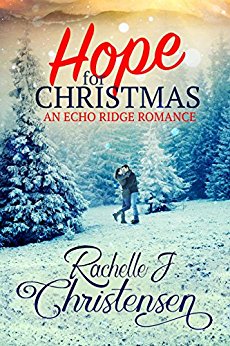 Publisher:

Peachwood Press

Available in:

ebook, Audiobook

ISBN:

B01LZ23KLH

Published:

October 3, 2016
ebook Available Here
Audiobook Available Here
Anika Fletcher hates Christmas–its promises of good tidings and hope for the future are as tinseled as the ornaments on Kenworth's Hope Tree. Despite her feelings, Anika wants to maintain her daughter's faith in the magic of the season and gladly accepts a second job working with the handsome Carlos Rodriguez to restore Kenworth's old fashioned soda fountain. Carlos is no stranger to hard times and slowly shares his life of light and joy with Anika as they work together. Just as her fragile soul begins to feel hope again, an ill-timed act of charity changes everything. Anika isn't sure who she can trust or if hope is worth nurturing–especially at Christmas when it's easy to enjoy a kiss and believe love can last longer than the season.
Echo Ridge Romance Singles (Each book in this clean and wholesome series can be read as a stand alone)
#1 Hope for Christmas
#2 The Kiss Thief
#3 The Princess Bride of Riodan
#4 Coming Home to Love
#5 Her Guy Next Door Fake Fiancé
Thank you for reading!