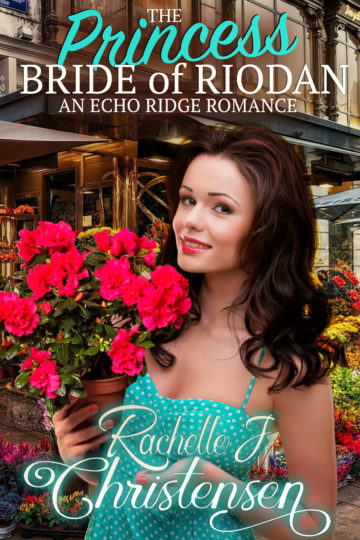 Publisher:

Peachwood Press

Edition:

Second

Available in:

ebook, Paperback, Audiobook

ISBN:

B07BCB58D5
ebook Available Here
Audiobook Available Here
Print Availabe Here
Enjoy another visit to Echo Ridge, New York with the third novella in the popular Echo Ridge Romance Series!
When a mysterious man offers to help Elise redecorate the old Bed & Breakfast, she gladly hands him a wallpaper steamer. After she discovers his true identity, she doesn't know whether to curtsy or run and hide. Unfortunately, hiding isn't an option because her heart is already tangled up with the handsome prince. At the same time, Elise's old crush from high school wants a relationship and she's forced to decide whether to chase after a fairy tale ending or stay grounded in reality.
Echo Ridge Romance Singles (Each book in this clean and wholesome series can be read as a stand alone)
#1 Hope for Christmas
#2 The Kiss Thief
#3 The Princess Bride of Riodan
#4 Coming Home to Love
#5 Her Guy Next Door Fake Fiancé
Thank you for reading!
Here's a sneak peek from this bestselling series!
Chapter 1
Wallpaper. Not just any wallpaper, but the kind that incited nightmares, covered every wall of the basement in the old Emerald Inn, Echo Ridge's premiere Bed & Breakfast. Elise Gibson ran the steamer along another section of the navy blue design with pink and maroon paisley and little golden flourishes that had real gold-leafing overlaid on the expensive textured wallpaper. Thirty years ago, this room had been part of the owner's separate living quarters and it was the height of interior design. Now it was up to Elise to remodel the large area into a stylish home theater where guests of the B&B could come and enjoy their favorite movies. The room would cater to the wealthy guests of Echo Ridge, New York, during the ski season and during the off-season it would be available for party rentals for the locals.
The steamer hissed and Elise pulled down one long section of the hideous wallpaper. The owners had used quality paper—thick as denim and caked in glue. She checked her watch. It was almost eight o'clock and since it was the last Tuesday of March, she needed to be to Kenworth's department store by nine to help decorate the window for the annual Tulip festival. She crumpled the paper into a ball and threw it aside. Stepping back, she smiled at the wall. It was yellowed and would need a good scrubbing, but the original texture would look fabulous with a new coat of paint. There were still three more walls to uncover in the eight-hundred square foot room, but Elise was up for the challenge. First, she needed to pack up the rest of the DVDs on the bookshelf.
The room had been semi-functioning as a movie room and lounge area for guests and the family that ran the place.  There was an old oak bookcase with several dents that held about a hundred titles. Elise grabbed an empty box and knelt next to the bottom shelf. She stacked two dozen Disney movies inside and moved to the next shelf. When she pulled off the next DVD a sigh escaped before she could stop it. The Princess Bride was definitely a love story worth repeating. She'd probably watched that movie twenty times with her mother that last summer before she died. Elise had just turned fourteen and her mom was thirty-six—too young to die of a heart attack. After her mom died, Elise's dad who resembled Prince Humperdink in more ways than appearance, sent Elise and her younger brother to Echo Ridge to live with their grandma. It was the best thing that could've happened to her. She carefully set the movie into the box, wishing that a man like Westley existed off the silver screen.
Bonnie Montgomery, one half of the dynamic duo who owned and managed the B&B, definitely had good cinematic taste. One entire shelf was filled with old chick flicks that Elise considered required viewing as a rite of passage for life. She packed up You've Got Mail, My Best Friend's Wedding, Runaway Bride, While You Were Sleeping, and even My Fair Lady. Elise smiled and hurried to empty the rest of the bookshelf. She put the box of movies into a closet and gathered up the wads of wallpaper from the floor. Trudging up the servant's staircase at the back of the B&B brought her to a landing near the south entrance. Elise opened the door and stepped out, carefully pulling it shut behind her without dropping the remains of the wallpaper. She felt for the next step with her foot, but just as she made contact with the stair she ran into something solid.
As she started to tip sideways, someone grabbed her around the waist, lifted her from the steps and set her down. "Got you there," the man said, his voice sounded muffled.
That was probably because Elise was clutching the wallpaper so tight, the edges of the wad were caught in her hair. "My goodness, I'm sorry," she said as she lowered the paper and looked up to meet the gaze of the man she'd tumbled into. He was definitely not what Elise was expecting to see that morning. His dark skin and black curly hair glistened with a sheen of perspiration. He was shirtless with bright orange running shorts. And he had muscles. Lots of big muscles. Elise forced herself to focus on his eyes, thinking that would be better than staring at his finely toned pectorals and biceps, but it didn't help. His eyes were so brown, they were almost black and they were rimmed with eyelashes any woman would kill for.
Neither of them were saying anything, which for him might be normal, but Elise wasn't even speechless in her sleep. His deep brown eyes bore into hers and she almost took a step back before realizing that the stairs she'd almost fallen down were still behind her.
"I'm sorry if I scared you," he finally said, backing up a step. "I didn't want you to fall."
His voice was quiet, cultured, and yes—definitely exotic. Elise could just catch the hint of an accent on his words. She wanted to ask if he was foreign, but he seemed a bit more reserved and she didn't want to pry or appear rude.
She swallowed. "Thank you. I'm sorry I wasn't looking where I was going. Actually I couldn't see even if I was looking over this pile of horrid wallpaper. I've been taking it down to remodel the theater room in the basement. I still don't understand how navy and pink paisley could have ever been in style. It's a huge job. You're tall so you'd have no problem reaching the top of the wall, but I have to use a stepladder and that is kind of precarious with a steamer." She scrunched the ball of wallpaper she still held and clamped her mouth shut. She hadn't really just said all that to a complete stranger, had she? It looked like he was trying hard not to smile. Yep, that was her—open mouth and dump every conscious thought into a form of speech.
"So, you work here?" he asked.
"Not all the time. I'm an interior decorator and they hired me for this project. I'm heading over to Kenworth's in a minute to set up the window display and then I'll work a few hours at Paisley's Petals—my other job is at the flower shop. How about you? What brings you here?"
"Oh, I was just out for a run." He breathed in deep and Elise noted his fine lung capacity—at least it probably was pretty good considering the size of his chest.
"This is a beautiful time of year to be outside. I just love it when I catch the smell of hyacinths. They're my favorite, but they never last long enough, you know?"
He smiled and his teeth were a bright white contrast to his dark skin. "I don't really know that flower."
"Hang on, I'll show you." She stepped past him and dumped the crumpled wallpaper in the garbage. Then she turned and motioned to him. "Right over here." The spring morning was brisk and she wondered if he was cold, or maybe not judging by the sheen of perspiration on his dark skin.
She walked across the grass to an oval-shaped flowerbed that surrounded a beautiful Linden tree. "See these light purple and dark pink flowers?" Elise crouched and pointed at the flowers. "These are hyacinths."
"Ah, I have seen those a few times before." The man nodded.
"But have you smelled them? Come here, you have to crouch down to get close enough to catch the aroma. There's nothing like it." Elise motioned with her hand and she noticed the side of his dimpled cheek twitch as if he was trying not to smile again. He crouched down and sniffed and then looked over at her, surprise widening his dark eyes.
"That scent…it's almost like my aunt's favorite perfume." He leaned in again and inhaled deeply.
"She must have good taste then," Elise replied. She straightened and he stood next to her. "My name's Elise Gibson. Sorry to trip over you and then take you on a botany lesson, but I'm so glad you like hyacinths too, or at least your aunt must."
He let out a laugh and the musical quality in his voice shot a thrill through Elise's middle. "I like them too. She is my favorite aunt and I don't get to see her very often. But the next time I do, I'll try to bring her some of these hyacinths."
Elise tucked her hair behind her ear. The dark curls fell past her shoulder and stuck to the back of her neck. The morning chill had left and the man with no shirt and too many muscles might have had something to do with that. "Hopefully that will be soon because these flowers will only be here for about two weeks."
"I'd better hurry then. The flower shop you mentioned, do they carry these hyacinths?"
"Special order for the next two weeks," Elise replied. "Oh, and I usually have some business cards with a ten percent discount, but if you stop by today while I'm working I can get you one of those."
"Oh, I wouldn't want to trouble you," he replied. "Thank you for your kindness this morning. I'd better be on my way." He lifted his chin with a smile and turned to go.
Elise started to wave. "Wait. Who are you?"
He opened his mouth as if to answer and then hesitated. His smile morphed into a thin line. He shrugged. "No one of consequence."
Elise stepped forward, putting her hand on his arm. She'd probably scared him off with her constant chatter and too much information about flowers, but there was something about him that was more than finely sculpted abs and a dazzling smile. She looked into his eyes. "I must know."
He swallowed and took a deep breath. He studied her face and a small line formed between his brow before he glanced down at her hand and stepped away from her touch. The corner of his mouth turned up in a half-smile and he winked. "Get used to disappointment." Before she could say another word, he sprinted across the lawn.
"Okay, that was rude," Elise said, but she smiled anyway as she watched the rhythm of his perfect shoulders in sync with his steps as he ran down the road. So he wanted to save wallpapered damsels in distress and be mysterious at the same time? That was fine with Elise, because she loved a good mystery.