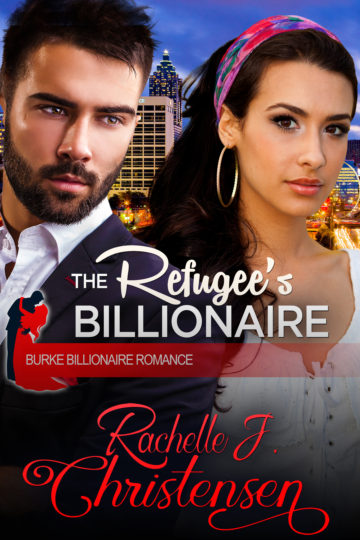 Publisher:

Peachwood Press

Available in:

ebook, Paperback, Audiobook

ISBN:

B07KTCZDLT

Published:

November 22, 2018
ebook Available Here
Audiobook Available Here
Print Availabe Here
The Refugee's Billionaire
**This book was originally featured in the charity anthology, With a Kiss, which is no longer available for sale. My novel is now available as a single with a BONUS epilogue to enjoy!**
Shawn Halstrom has an assignment: travel to Atlanta, Georgia to investigate The Heart of Atlanta refugee center so that Burke Enterprises can make a donation. The job should take two weeks tops, but he wasn't planning on falling for a Cuban refugee named Carolina Diaz. She's a single mother who isn't interested in dating, even if the guy might be a billionaire.
Burke Billionaire Romance Series (Each book in this clean and wholesome series can be read as a stand alone)
#1 Hawaiian Masquerade
#2 The Billionaire's Stray Heart
#3 The Refugee's Billionaire
#4 Hawaii Ever After
Thank you for reading!
Enjoy a preview of the audiobook!
Chapter 1
Carolina Diaz opened the kitchen window across from the stove in the refugee center. The balmy air trickled in, caressing her skin. February in Atlanta, Georgia, was a lovely time. It wasn't too cold, and the humidity was at a bearable level. Maybe I'll have time to take Daniel outside today, she thought. But first, there was a long list of tasks that needed completed, and Carolina was excited about her work that day. It was a busy day for a Tuesday, and everyone worked hard to meet the goals the refugee center had set.
Pots and pans clanked behind her as several volunteers worked to prepare lunch for the refugees who had arrived last week to the Heart of Atlanta Refugee Center. She straightened and looked around the room. The center was one place where Carolina always felt like she belonged.
Carolina lifted her right hand, studying the gold band with bits of rubies embedded along one side. It had belonged to her grandmother, and Carolina still felt an ache in her chest when memories of simpler times surfaced. Five years ago Carolina and her grandmother had arrived in America. At the young age of sixteen she had fled Cuba, seeking a new life with her grandmother. Through the kindness of volunteers in this very center, Carolina was living the life her grandmother had hoped for before she passed away.
Carolina carried a stack of plates to the serving area, and then poked her head out of the kitchen to where she had last seen her son, Daniel, playing. Only four years old, her precocious little boy needed the eyes of every volunteer in the center to keep him out of trouble. She looked across the hall where refugee families gathered in an open area for games, crafts, and learning skills to help them acclimate to America. Daniel was driving a wooden car across the tile floor, crawling after it and making motor sounds. It was one of hundreds that a volunteer had made for children who showed up with nothing but the shirts on their backs. A few of her volunteer friends smiled and waved when they saw Carolina checking on Daniel.
Carolina smiled at her son. She was about to turn back into the kitchen, when she noticed a man walk through the entryway, carrying a leather shoulder bag. A very fine man. He was dressed in a business suit with a blue silk tie. His beard was trimmed close. He appeared to be in his thirties, but as the man walked toward a group of people filling out paperwork on a table, Carolina guessed that he was only a few years older than her, maybe in his mid-twenties. He pushed a hand through his thick black hair as he surveyed the center. He definitely didn't fit in with the ragtag crew that haunted the center.
The man must have felt her stare. He caught her eye, and the side of his mouth lifted in a hesitant smile. Daniel chose that moment to drive his car over the man's shoes, and motored around in a circle. As the man crouched next to her son, Carolina took a step forward, intent on helping Daniel apologize.
"Hola. ¿Cómo estás?" the man said in a deep voice she could barely hear from across the room.
Daniel looked up and smiled. "Bien." He gave his car a push, and it banged against the wall, one wheel popping off. Daniel frowned and plopped down on his bottom. "It broke!"
He started crying, but the man put his hand tenderly on Daniel's back. "Hey, I can fix it." Carolina walked toward her son hesitantly. How was this attractive businessman in his immaculate suit going to soothe Daniel's tears?
He picked up the car and the wheel, blew on the wheel, and snapped it back into place. He pushed the car, and it rolled forward across the tile. "See, it just needed a little magic."
"Gracias," Daniel said and scooted after the car.
Carolina laughed as she walked the last few steps toward her son. The man stood and smiled at her. "Can you believe this kid? They said all these refugees have arrived in the last two weeks, but his English is great."
"That's because he's an American," Carolina replied, her lips twitching with laughter.
The man turned to her. His eyes matched the color of his blue silk tie. "Huh? What do you mean?"
"He's my son. I work here."
"Oh, you're not—"
"Carolina Diaz." She held out her hand. "I came to America as a refugee to this very center five years ago. My son was born here in Georgia." Her speech was still edged with a Spanish accent, but at least people didn't have to strain to understand her anymore. The handsome man in front of her didn't seem to be struggling. "Where did you learn to speak Spanish?"
Shawn chuckled. "I don't think counting to ten and saying a few greetings counts as speaking a language, but I did study some in college." He took her hand and gave it a firm shake. "I'm Shawn Halstrom from Burke Enterprises. I'm here in regards to a possible donation that Lexi and Jordan Burke want to make to a center in this area."
A donation? It must be the one Lisette had hinted at—the one that could keep the center running. "Oh, from Burke's Higher Steps. That's wonderful," Carolina said, trying to ignore the tingle that went up her arm at his touch. "Have you met our director, Lisette Douglas?" She checked his left hand—no ring, so this man was a single and very wealthy man. Too bad she'd sworn off dating.
Shawn nodded. "I was in yesterday, and she showed me around. I'll be meeting with her again today."
Carolina hadn't worked the day before because she'd taken Daniel to the dentist. How high up was Shawn in the Burke's Higher Steps foundation? Would he be the sole decision-maker for the donation? "Well, last I saw, she was in the kitchen checking on supplies. Would you like to wait in her office, and I'll tell her you're here?"
"Sure. She's expecting me, but I can work on a few things if she needs to finish up."
Shawn didn't seem like the type who was used to waiting for others, but his smile seemed genuine. Lisette had told her about the people behind Burke's Higher Steps. They were all billionaires. Was Shawn a billionaire then? Did he have the power to single-handedly change the fate of their center? Nerves gripped the outside of Carolina's shoulders as Shawn followed her to Lisette's office. Carolina hesitated in the doorway, wanting to ask him what he thought of the center; instead she swallowed her curiosity. "Okay, I'll be back in a few."
Carolina hurried back through the kitchen and located Lisette. The tall, dark-skinned woman held a clipboard and was pointing at a stack of cans with her pencil, probably mentally counting how many they would need for the next week. "Hey, Lisette. There's a man named Shawn here, something to do with Burke Enterprises."
Lisette turned, and her brown eyes lit up with a smile. "Oh, I'm glad you met him. He's such a nice guy. What did you think of him?"
Carolina raised an eyebrow. "He's a wealthy businessman who wants to make sure we're using funds correctly. What's to think?" There was a lot to think, but she didn't want her boss to know anything about how attractive she thought Shawn was or how kind he'd been to Daniel.
Lisette clucked her tongue. "Oh, he's not what you think. Shawn has soul—have you seen those blue eyes of his?"
"I didn't really notice. I was checking on Daniel." Carolina looked down at the floor. Hopefully Lisette wouldn't notice the flush of her cheeks. She had noticed Shawn's blue eyes, and she hadn't wanted to look away. "Anyway, he's waiting for you in your office."
"Great," Lisette replied. "I think this donation could be the difference-maker we've been praying for." She tucked a black strand of hair back into the bun at the nape of her neck.
"Oh?" They both had big dreams for the center. Lisette wanted to offer more for those arriving in such a tumultuous time of their life. One of those dreams involved Carolina setting up a skills center to teach marketable skills to the refugees. Many of them could not read, write, or speak English. If they could get a sizable donation, Lisette hoped to provide job training for the refugees. Carolina also wanted to work with the existing talents that many refugees learned in their homeland to craft a living for themselves in America.
"Yes, that's why Shawn is here—to identify exactly how much we need."
"You mean they're going to donate whatever we need?" Carolina couldn't keep her mouth from dropping open.
"Well, not exactly like that, but," Lisette tilted one hand from side to side, "if they choose to help our center, it will be an incredibly generous donation. Lexi and her brother Jordan are wonderful people. Everyone at Burke's Higher Steps is fabulous."
Carolina grinned. "That's the best news I've heard all day."
"Why don't you come in to the meeting with Shawn?" Lisette asked.
"Oh, no, I couldn't. I probably wouldn't understand half of what you say." And she would probably get caught staring at Shawn's blue eyes instead of listening.
Lisette paused and put her hand on Carolina's shoulder. "You can do more than you know, Carolina. Don't hide your talents."
"I'll work on that, but right now I'd better go check on Daniel." Carolina turned and hurried out of the kitchen. Lisette always encouraged her, but life had been kinder to her than it had been to Carolina. Still, what talents did she think that Carolina had to offer the center?
"We both know he's just fine," Lisette called, teasing laughter in her voice.
Carolina couldn't help but smile as she crossed the hall to check on her son. She also couldn't help but notice Shawn sitting next to Lisette's desk typing on his phone. He looked up as she passed and smiled, those blue eyes lighting up with interest. Ducking her head, Carolina walked purposefully toward the multipurpose room. Think of Daniel, not of Shawn and his blue eyes, she thought.