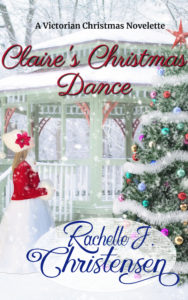 I hope you all had a wonderful Thanksgiving, if you celebrate it. I'm excited to share with you that my clean romance, Claire's Christmas Dance, is just 99 cents from now thru December 7th! This is a novelette, so it's perfect to squeeze in with all the busy Christmas activities. I hope you enjoy this clean and wholesome Victorian story. You can find your copy HERE.
Merry Christmas!
Here's more about the book:
Claire has always dreamed of dancing at the Fielding House Christmas Ball, but she never dreamed she might dance into the arms of a gentleman not of her class.
The Fielding House Christmas Ball is for everyone, including servants. This Christmas Eve a lady's maid, Claire Walden, plans to attend for the first time, but when Mrs. Fielding's grandson shows up unexpectedly the dance may take a different turn. Edmund is a gentleman of the upper class, but with a questionable background. When he shows an interest in Claire, she doesn't want to risk her heart, but over time, Claire comes to know Edmund. As the Christmas Eve ball approaches, Claire wonders if love might be able to cross the lines of servants and high society. If she saves a dance for Edmund, will he steal her heart forever?
I also have a 99 cents collection to share with you today!
Park City Firefighter Romance Collection by Daniel Banner
Two Hearts Rescue
Poppy Mercier is not good enough. At least that what she's always been told and she believes. After tumultuous college years she returns to her hometown of Park City, Utah and soon encounters a handsome young fireman who makes her doubt her own self-doubts.
Slade Powers isn't interested, at least not like that. He's the new guy on the Park City Fire Department and is struggling to get a side business off the ground. He's been burned in love before and has no desire to expose himself like that again. But when he meets the girl whose smile can outshine the sun, he knows he's in trouble.
Will these two broken souls overcome their pasts to find love or is it too late for either of them to be rescued?
A Perfect Rescue
Emily Smith has always been told she's quite the catch, so why do all of her relationships end so quickly? And why does she attract pretty boys who make her feel anything but feminine? Sure, she's a firefighter and a better mechanic than most of the guys she knows, but she still wants someone who makes her feel like a lady. When Dominic Jewell shows up, she thinks she's found Mr. Right.
Dominic is a brand new airline captain and is on top of the world. As the youngest of eight siblings, he's been bossed around his whole life and is ready to be in charge. But he feels like he's a half step behind this incredible new woman in his life.
When Emily faces tough days at work, and needs to recuperate in her own way, can Dom figure out how to be there for her but also give her the space she needs? If he can't strike a balance between being strong and being supportive, they might both decide that it's just another failed attempt.
Rescue and Redemption
JFK, a firefighter for the Park City Fire Department, is tired of being razzed about his classy nickname. He's lost weight, and even cut back on the swearing and drinking in an effort to fit the image. Still, he believes people never really change at heart. After all, under those muscles that can bench 250, he's still the same guy. When a striking beauty wanders into his kitchen with her two-year sobriety coin, he wonders if he's underestimated himself. A guy like him might just get a girl like her.
Mercy Jewell McGovern, recently graduated from college and is in the process of getting her life back on track when she meets JFK. She's immediately attracted to the capable chef running his precision kitchen at a charity event. But on their first date, it's obvious he's used to hanging out with guys, not with a lady. That won't fly for Mercy. Despite her rowdy past, she knows she's worthy of someone who knows how to open a door for her and can sit down to Sunday dinner with her extended family, the Jewells, who could write books on manners.
Time after time JFK comes to her rescue, but will she be the one to ultimately save him from settling for less than his best?
Sparks Will Fly
When two college rivals meet and fall in love, the only certain is that sparks will fly!
Her Christmas Miracle
When two Christmas prophecies collide, Jillian and Jak have a chance at true love if their Christmas miracle clock doesn't expire.
Follow Rachelle: