Today I want to help spread the word about an impactful and uplifting music subscription for musician Hilary Weeks. Be sure to scroll down and enter the great giveaway! But first…here's what members are saying:
"I have immensely enjoyed being a subscriber to Live All In! I love it!"  – Debbie

"Thank you, thank you for helping me live all in!" – Sherrie

"I absolutely love the Live All In program!" – Rebecca
DESCRIPTION OF LIVE ALL IN: 
As a member of LIVE ALL IN, you'll receive a brand new Hilary Weeks song every month. You will also have access to a song study that includes scriptures, quotes and questions to help you study the message of the song that month! Every month, you'll receive the sheet music and instrumental track for that song. Plus you'll get the beautifully designed lyrics, coloring page and two 5×7 printables that you can frame for your home or use as lesson handouts.
DIRECT LINK TO PURCHASE: 
https://hilaryweeks.com/live-all-in/
Thoughts by Rachelle: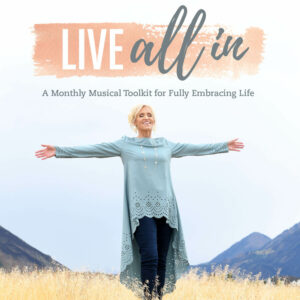 I have been a fan of Hilary Weeks' music for over 25 years so when I learned about her new program, Live All In, you can bet I was one of the first in line to try it out! I am so thrilled with this incredible program where Hilary shares her talent through messages, original songs, and even the sheet music each month. I love playing the piano and singing, so having both the mp3 recordings and the sheet music feels like such a gift!
Hilary's program also includes great printables, quotes, and ideas that I can share with my family. It helps give me another teaching moment and music is something that always brings a point home better than any lecture. I love having this as another resource to bring light and love into my home. Each month includes a toolkit with a message, song, and other materials. Hilary co-writes many of these new songs and it's been fun to see the other touches of artists as I've looked back over the 2019 toolkits. It's handy that everything is accessible online AND there is even a Live All In app for my phone! There are so many ways to learn and be inspired and through Hilary Weeks and her Live All In program, I feel like I've found another wonderful investment that will impact my family positively for the future. I'm really looking forward to all that she has in store for 2020!
There are some great sign up specials going on now, so check them out. Listen to some of the sample music and see the beautiful printables available. I hope that if you haven't had a chance to experience Hilary Weeks music, you'll take a moment to do so now.
Blog Tour Sale Offer – You can purchase a 2020 Live All In Annual Membership for early bird price of $49 (reg. $59) and if you use the coupon SALE15, you get another 15% off! Only $42!!
You and your family can also enjoy an entire year's worth of gorgeous, monthly music, sheet music, coloring pages, printables for your home, song studies, and lyrics for under $4 a month!
There is a video down below that gives a brief, fun explanation of Live All In.  I'd also like to invite you to visit the website to learn more!
Live All In Website
GIVEAWAY:
Follow Rachelle: