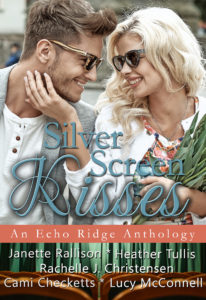 The audio book of Silver Screen Kisses: An Echo Ridge Anthology is ON SALE for the whole month of May! If you've been wanting to listen to these clean and wholesome romances that are based on beloved movie classics, then now's the time to purchase yourself a copy. This collection takes place in the springtime and what better way to enjoy the blossoming flowers than by listening to these budding romances in these sweet romance books.
You can buy your copy on any of the following platforms:
Here's more about the collection:
Silver Screen Kisses is a collection of stories inspired by movies that are on every favorite-movie list. Written by award-winning and best-selling authors, these contemporary romances take the listener back to Echo Ridge in the spring, when the promise of new love is budding just like the tulips around the Emerald Inn Bed & Breakfast.
In "My Fair Lacey" by Janette Rallison, we hear the story of Lacey, who has dreamed of opening a restaurant for years – but first she needs a loan. When Garrett Halifax, her roommate's Harvard-educated brother, offers to help her clean up her appearance and manner to impress the bank manager, she jumps at the chance – but will she be able to keep up appearances without falling for the sexy Garrett?
"The Princess Bride of Riodan" by Rachelle J. Christensen is the story of Elise, who accepts the help of a good-looking stranger in redecorating her old bed & breakfast. When she finds out who he is, she doesn't know whether to curtsy or run and hide – but her heart is already tangled up with the handsome prince. Will she chase the fairy-tale ending or choose her high school sweetheart and stay grounded in reality?
The anthology also includes "You've Got Email" by Heather Tullis, a story of sexy mistaken identity and online romance; "My Best Man's Wedding" by Cami Checketts, in which a fake fiance becomes a real lover; and "While You Were Skiing" by Lucy McConnell, the tale of a handsome skier with a head injury who thinks the beautiful hostess of the ski lodge is his fiancee – so of course, she plays along.