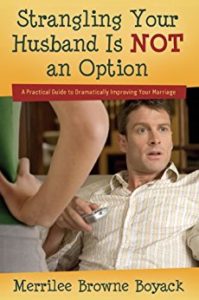 Book Thoughts by Rachelle
I just finished reading, Strangling Your Husband is Not an Option for the second time and I will most definitely read it again. Now don't run for cover husbands and wives, this is an excellent book on improving your marriage and the only other options to strangling Merrilee Browne Boyack provides are how to be a smart wife.
I haven't been able to finish very many marriage books because, *gulp* they're too boring and preachy and unrealistic. Okay, so maybe I haven't picked up the right books until now but I'm telling you this in case you're a little gun-shy of marriage books. Merrilee Browne Boyack is absolutely hilarious and fun!! This book has wonderful ideas and she puts the concepts in such a great format that instead of feeling discouraged, you're left feeling energized and excited about how you can make your marriage great.
Merrilee Boyack has written this "Practical guide to dramatically improving your marriage" using her own experiences and many others, including some timeless advice from prophets and other general authorities.
This book is an easy read at only 177 pages and it's one you can pick up and read a chapter here and there when you have time. Every page has wonderful insights and tidbits of information to help you improve your marriage. What I love about the book is Boyack gives the old "I'm gonna fix my husband trick" a complete turnaround and instead tells us what we can do to improve the marriage by improving ourselves first.
The Five Don'ts and Do's of Wifehood are excellent tips and I'm certain that if people only read those two chapters and followed the advice, there would be many more happily married couples.
This book is a repeat offender in my book list, which means I will be reading it again and again over the years to remind myself of how to be a smart wife, a happy wife, and one who knows the worth of her husband.
If you are a wife who has ever considered strangling her husband or pulling her hair out or myriad other things–then you should read this book.
It's tricky to be married, it's hard work! But after reading this book I love my husband more and I realize all the wonderful things he does for me and our children and what a good man he is. I realize that even though he forgets to take Kleenexes out of his pockets before the wash, there are many more important points–good points–in our marriage and I love him.
Here's hoping you'll enjoy this book and enjoy your husband even more after reading it! Happy Reading!
Here's more about the book:
Things can get pretty crazy in marital relationships. As one review has said, "What wife hasn't felt like strangling her husband at least once during their marriage?"
With her lighthearted personality and humor, author Merrilee Boyack shares twenty-five years' worth of marital perspective in this practical guide to improve any marriage. As an estate-planning attorney Merrilee has dealt with many struggling couples going through divorce. (Seven-year marriages seem to have the greatest challenges.) She offers practical tips for women who want to better understand men (particularly their husbands) and build happier marriages. She invites women to dump the guilt, to be open enough to learn about areas they'd like to improve, and then take the steps to make those changes. Readers will also find a wealth of fun and practical advice in chapters like "The Five 'Don'ts' and Five 'Do's' of Wifehood," "But How Do I Change My Husband?" and "No, Really, How Can I Change Him?"
Other books you may enjoy:
Visit Rachelle's Book Review Page to see all reviews HERE.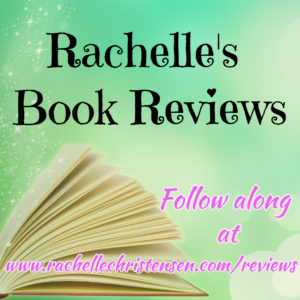 Follow Rachelle:
*Affiliate links used in post. All reviews shared are Rachelle's honest opinion.*