My new suspense, Forget What You've Heard, is Book 1 in the Jason Edwards FBI Chronicles Suspense series and I just know you're going to love it! It's now available and you can find your copy HERE.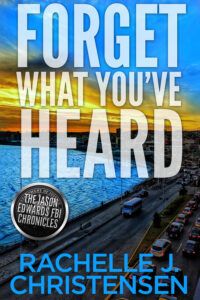 ***NOTE*** This book was originally published under the title, Wrong Number. The author has revised and updated the book and added a new cover and title to reflect these changes.
A cryptic phone call overheard by a pregnant woman makes her the next target for murder.
One small piece of conversation heard by the wrong person changes everything. When Aubree Stewart answers her phone on the way to work, she has no idea that she is now in possession of a dangerous secret—one so powerful that even the Secretary of Defense is in peril. Unable to forget what she has heard, Aubree soon finds herself swept up in a world of danger, intrigue, and murder. With help from the FBI, Aubree races to protect herself and her unborn child, but the one thing she forgets to protect is her own heart.
Look for all of the Jason Edwards FBI Chronicles from best-selling author, Rachelle J. Christensen!
#2 Forget What You've Seen—Coming Soon
#3 Forget Me Not—Coming Soon

Follow Rachelle: