I have some great news to share with you! My book, Hawaiian Masquerade, is FREE for a limited time! This clean romance is part of the Burke Billionaire series and is set on the island of Kauai. If you're longing for a tropical escape, be sure to grab a copy of this sweet romance for FREE between 7/16 and 7/20! You can find your copy of this clean and wholesome book HERE: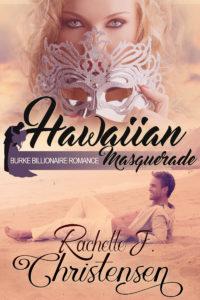 Could Lexi's new billionaire status threaten her chance at love with a jaded, blue collar worker from Kauai?
On the path to becoming a billionaire, Lexi Burke switches gears and flees the Chicago winters in favor of a slower pace of life along the beaches of Kauai. But when she meets a blue-collar worker and wannabe professional photographer named Derek Mitchell, any ideas for a slow pace disappear. Derek is incredibly hot and tempting, but he has a grudge against rich tourists, and wealthy people in general. Good thing he thinks Lexi is a regular person earning an average wage because the instant attraction is hard to ignore.
From art night to snorkeling lessons, hiking, and chopping coconuts, Lexi can't talk herself out of spending time with the handsome, hardworking man who knows the value of every dollar. She also can't find a way to tell him the truth about herself. But then Derek is selected to help in a benefit at a masquerade ball as one of the eligible bachelors up for auction. Lexi must decide whether to wear a mask or unveil her true self and risk losing Derek's trust and a chance at love.
Is Derek willing to see past the dollar signs to the woman underneath, or will he break both their hearts when he learns about the money behind the masquerade?
This novel is Book #1 in the Burke Billionaire Romance Series and includes a bonus sneak peek of Book #2! Books can be read in any order.
Books in the Burke Billionaire Romance Series
Follow Rachelle: