Today is my book birthday and this is a very special day indeed! I am thrilled to introduce you to my 19th book baby, Carve Me a Melody.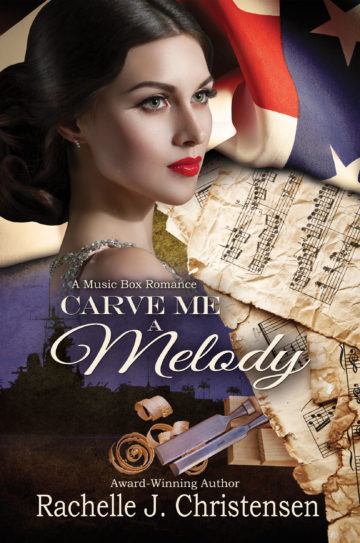 I absolutely adore this cover capturing the essence of this novel. This book continues Leland's story from The Soldier's Bride. I had so many readers say that they wanted to know more about Leland and I'm so pleased to deliver this story!
Carve Me a Melody is available on all digital platforms, here's a universal
link: https://books2read.com/u/bWKa07
It's also available in a special edition hardcover here.
I have a special launch giveaway too! You can enter to win one of three ebook copies of the first book in the series, The Soldier's Bride. Check out the rafflecopter giveaway below, but first, here's more about Carve Me a Melody.
From the award-winning author of the bestselling novel The Soldier's Bride read the story of a carpenter who gave a music box to a young polio victim, but held the magic of the melody inside his heart.
 He hesitated only half a second before lowering his head. There was something there, behind his eyes,
in his soul. Something that seemed familiar to Sophie. She didn't know Leland, but she recognized that haunted look in his eyes.
He had lost someone. He had weathered the storm and still manned his ship, sailing forward through life.
World War II has ended but the scars of the war have carved deep grooves in Sophie Wright's heart. Now a widow with two young children, she returns home to Aspen Falls and meets Leland Halverson, a handsome carpenter who appears interested in her, but afraid of a relationship.
Leland wishes he was worthy of the beautiful Sophie, and he adores her two children, but his past still haunts him. Sophie knows that Leland fell apart after his little girl died and his wife left him, but she doesn't know the real reason why.
Meanwhile, David Alexander, a decorated bomber pilot has returned to Aspen Falls, and Sophie catches his eye. Confused by the two vastly different choices of men, Sophie searches for answers from a heart that has betrayed her before.
When Sophie discovers a message inside a music box that Leland once owned, the pieces start to fit together. The enchanting melody urges her to share the secrets of her heart so that she can understand his. Leland knows the tune from the music box well and if he can find the courage, he'll carve a melody for Sophie from the solid wood surrounding his heart.
 About the Author
Rachelle is a mother of five who writes mystery/suspense, nonfiction, and women's fiction. She solves the case of the missing shoe on a daily basis. She enjoys raising chickens and laughing with her husband. She graduated cum laude from Utah State University with a degree in psychology and a minor in music.
Rachelle is the award-winning author of over a dozen books, including The Soldier's Bride (a Kindle Scout Selection & Whitney Award Finalist), Diamond Rings Are Deadly Things, Veils and Vengeance, Proposals and Poison, Hawaiian Masquerade, What Every 6th Grader Needs to Know, and Christmas Kisses: An Echo Ridge Anthology. Her novella, "Silver Cascade Secrets," was included in the Rone Award–winning Timeless Romance Anthology, Fall Collection.
 Direct links to all of your favorite ebook stores that carry Carve Me a Melody
Enter to win one of three copies of the ebook, The Soldier's Bride, book #1 in the Music Box Romance series, Kindle Scout Winner & Whitney Award Finalist.