Jason Edwards FBI Chronicles Box Set (The Jason Edwards FBI Chronicles: Dangerous Secrets Suspense) is now available! Get Forget What You've Heard, Forget What You've See, and Forget Me Not all together in one collection.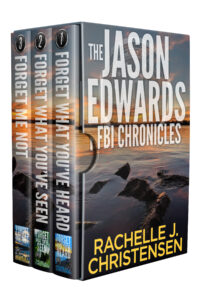 Dive into these three thrilling suspense novels with FBI agent Jason Edwards and uncover the truth behind twisted secrets, kidnapping, and murder!
***NOTE*** The books in this set were originally published under the titles, Wrong Number, Caller ID, and River Whispers. The author has revised and updated the books and added a new cover and title to reflect these changes.
Forget What You've Heard
A cryptic phone call overheard by a pregnant woman makes her the next target for murder.
One small piece of conversation heard by the wrong person changes everything. When Aubree Stewart answers her phone on the way to work, she has no idea that she is now in possession of a dangerous secret—one so powerful that even the Secretary of Defense is in peril. Unable to forget what she has heard, Aubree soon finds herself swept up in a world of danger, intrigue, and murder. With help from the FBI, Aubree races to protect herself and her unborn child, but the one thing she forgets to protect is her own heart.
Forget What You've Seen
Even if she escapes her captors, something much more dangerous lies ahead.
When twenty-three-year-old Courtney Beckham, the privileged daughter of a highly successful land developer, is abducted in the mountains near her home, the search turns up more than just a kidnapping crime. FBI agent Jason Edwards investigates the ten-million-dollar ransom and stumbles upon something he wasn't meant to find.
When Courtney catches a glimpse of the caller ID in her kidnapper's home, what she sees turns her world upside down. Even if she escapes her captors, something much more dangerous lies ahead.
Forget Me Not
A mystery lies beneath the current. Can Jack uncover the truth before he loses what's left of his family?
Jack Bentley's life fractured into jagged shards of pain and loneliness four months ago when his wife's car plunged into the Snake River.  Still reeling from the loss of his wife and infant son, Jack finds his world shaken again when he sees the ghost of his wife, Gina. But the truth she tells him changes everything: their son didn't drown with her.
Now, Jack must find his son before he slips away forever. Haunted by loss and his wife's plea, Jack finds himself diving into a mystery deeper than the river's swift current. No power on Earth can reunite him with his little boy—and even help from beyond the grave may not be enough to bring Jack's son back.
Be sure to read all of the books in the series from best-selling author, Rachelle J. Christensen!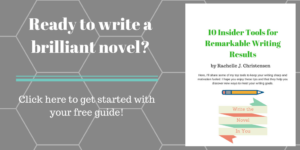 Follow Rachelle:
*Affiliate links used in post. All reviews shared are Rachelle's honest opinion.*