New Release
The Burke Billionaire Romance Collection (Books 1-4) is NOW AVAILABLE! You can get Hawaiian Masquerade, The Billionaire's Stray Heart, The Refugee's Billionaire, and Hawaii Ever After in just one ebook. This box set is also enrolled in Kindle Unlimited, so be sure to get it and read it there if you're enrolled in the program. Click on any of the pictures or click HERE to start reading it today!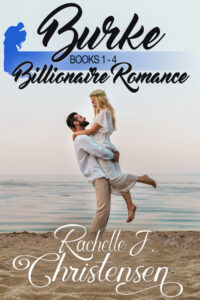 Meet the Burke family—intelligent and powerful business owners who become billionaires unexpectedly and fall in love along the way. Enjoy four novels in this sweet romance collection and meet some of the Burke family friends too!
♥Hawaiian Masquerade
On the path to becoming a billionaire, Lexi Burke switches gears and flees the Chicago winters in favor of a slower pace of life along the beaches of Kauai. But when she meets a blue-collar worker and wannabe professional photographer named Derek Mitchell, any ideas for a slow pace disappear. Derek is incredibly hot and tempting, but he has a grudge against rich tourists, and wealthy people in general. Good thing he thinks Lexi is a regular person earning an average wage because the instant attraction is hard to ignore.
From art night to snorkeling lessons, hiking, and chopping coconuts, Lexi can't talk herself out of spending time with the handsome, hardworking man who knows the value of every dollar. She also can't find a way to tell him the truth about herself. But then Derek is selected to help in a benefit at a masquerade ball as one of the eligible bachelors up for auction. Lexi must decide whether to wear a mask or unveil her true self and risk losing Derek's trust and a chance at love.
Is Derek willing to see past the dollar signs to the woman underneath, or will he break both their hearts when he learns about the money behind the masquerade?
♥The Billionaire's Stray Heart
Jordan Burke, billionaire owner of Burke Enterprises doesn't have time to date. His sister thinks it's time for him to find love and sets him up with her best friend, but Jordan can't leave his work behind. After the disastrous date, a stray puppy saves his life, and Jordan meets a woman who makes him rethink his priorities.
Madison is attracted to Jordan from their first meeting but wary of his billionaire status. Despite her fears, she can't ignore the pounding of her heart and the sparks flying between them or the tender way Jordan has with his new puppy.
Jordan starts to change his life to make room for the woman he loves, but when a business opportunity comes his way, will he be able to keep his resolve or will his heart stray again?
♥The Refugee's Billionaire
Shawn Halstrom has an assignment: travel to Atlanta, Georgia to investigate The Heart of Atlanta refugee center so that Burke Enterprises can make a donation. The job should take two weeks tops, but he wasn't planning on falling for a Cuban refugee named Carolina Diaz. She's a single mother who isn't interested in dating, even if the guy might be a billionaire.
When work pairs the unlikely duo together, Shawn and Carolina see a different side to each other and the world. Carolina's son, Daniel, captures Shawn's heart and the possibilities for a new future unfold. But when the refugee center where Carolina works faces closure, the two must decide if they are strong enough to work through the difficulties ahead and if love is a risk they're willing to take.
♥Hawaii Ever After
Gracie Cardulo has performed for the New York ballet for over a decade, but her body can't keep up with the rigorous demands of dance anymore. She arrives on the isle of Kauai for her billionaire best friend's wedding to consider new job options and ends up dancing with the best man, Pika Sepe. The entire island is filled with romance when she's with the handsome Hawaiian, but can she truly be happy without dance?
When Pika's ex-girlfriend stirs up trouble, Pika and Gracie must dig deep to find out if their love is meant to be. Can they hold together when people keep trying to pull them apart? Will their love last beyond the beautiful island sunset, or fade into the deep waters of doubt?
Follow Rachelle: