Book Thoughts by Rachelle
I love reading books to my kids. Each night, my husband and I split up to read different books to the kids according to their age levels. Now that my girls are older, they have been helping out so that the 3 boys are read to every single night. Check out this cool eye-catching cover of
The World's Greatest Adventure Machine
! It grabbed my kids' attention.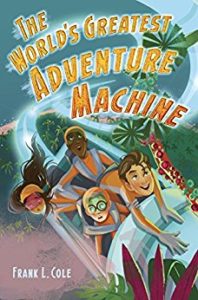 Rachelle and 8 year old son's thoughts:
This book is a hit! I read this aloud to my son and he loved staring at the cover while I was reading. From the very first pages, he was hooked, especially because he said that Trevor sounded a lot like Dan Cahill from the 39 Clues series. We loved the mystery in this book, the way each character was introduced with something mysterious, the way that the Castleton's seemed to have a lot of secrets, and the incredible twists and turns of the Adventure Machine! There's an excellent mix of everything we love in this book–surprise, suspense, humor, wit, action, adventure…it's just awesome on every level. Frank Cole is a master at building suspense and action and sprinkling humor in with the story. We thoroughly enjoyed reading this book and now my son is looking up more to read–can't wait!
Here's more about the book:
An adventure novel about four lucky kids and a mysterious, but thrilling ride for fans of Charlie and the Chocolate Factory or Jurassic Park!
CastleCorp and the famous Castleton brothers are unveiling the World's Greatest Adventure Machine! The roller coaster is an experience like no other, and four lucky kids have won the chance to be the first to ride it.
There's Trevor, whose latest stunt got him in trouble at school again. There's Devin, whose father is pushing him to be the next Internet sensation. Nika's wealthy grandfather isn't too pleased about her participation. And Cameron, he'll be the first to tell you, is a certified genius.
The whole world is watching. But as the kids set off on their journey, they begin to realize that there is perhaps more to their fellow contest winners than meets the eye. And the Adventure Machine? It might just have a mind of its own.
Join the contestants on their wild ride if you dare. Your adventure starts now!
Other books you may enjoy:
Visit Rachelle's Book Review Page to see all reviews HERE.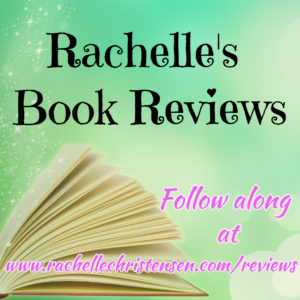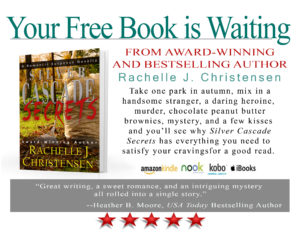 Follow Rachelle:
*Affiliate links used in post. All reviews shared are Rachelle's honest opinion.*

Don't miss a post!