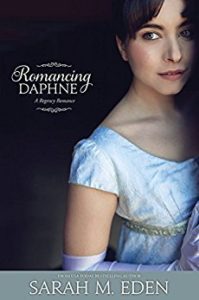 Book Thoughts by Rachelle
This is an excellent read, as expected for any of Sarah Eden's novels. I absolutely loved reading more about the Lancaster family in this sister novel to the many English sisters named after Greek Myth characters. Romancing Daphne is the story of Daphne Lancaster, the timid, quiet sister who has so much more going on her beautiful mind than others suspect. Her character is one of contrasts from the expected or perceived and the reality and James Tilburn's character is the same, although in a very different point of conflict. There are definitely villains in this book, very well written and easy to dislike, which makes it all the more enjoyable to root for Daphne and James! One of my favorite things about Eden's writing style is the wit and charm that she effortlessly weaves into a compelling romantic tale that is wholesome and clean. I laughed out loud in several places as I read and read every second I could grab to reach the satisfying conclusion. I love happy endings!
Here's more about the book:
As her first London Season looms before her, the thought of the impending social whirl fills Daphne Lancaster's timid heart with dread. She hasn't her sisters' beauty nor their talent for conversing easily. Even her family's enviable connections may not be enough to prevent disaster.
But Daphne's misery turns to surprised delight when the first even of her Season brings an unexpected visitor to her door—James Tilburn, whose tender kindness stole her heart in her youth. When the handsome young gentleman expresses his desire to court her, Daphne is elated. Their feelings for each other quickly grow, and it appears that, much to Daphne's disbelief, her happily ever after is within reach.
Yet nothing is as it seems. The couple finds themselves caught in a tangled web of greed and deceit, leaving James and Daphne to determine whether they are willing to risk everything for true love.
Other books you may enjoy:
Visit Rachelle's Book Review Page to see all reviews HERE.