Book Thoughts by Rachelle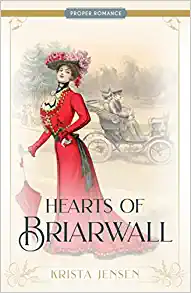 I loved this absolutely splendid turn-of-the-century Rom Com!! I laughed out loud so many times. Krista Jensen did an amazing job with the banter and camaraderie of the characters in Hearts of Briarwall. I devoured it as I chuckled, swooned at the sweet romance, and thoroughly enjoyed being placed in 1906 England.
Lydia Wooding is coming of age to make decisions about her inheritance and life in general, but her protective older brother Andrew seems to be holding her in place. A nod to Peter Pan can be found here in Andrew never wanting Lydia to grow up. The author has cleverly created the Wendy League involving Lydia and her friends who loved the recent Peter Pan play as this is set in 1906. Throughout the story the reader will be delighted at the references to the play as well as the women's suffrage movement going on and the fantastic shift in the world for women.
When Lydia gets to know Andrew's friend, Spencer, she is sure that she is only interested in his business ideas but of course there is so much more to Spencer than that. I loved the way this relationship developed while showing development of characters at the same time.
When I finished reading this book I felt like I had a pocketful of new friends to laugh and smile with. This was a refreshing tale from the Proper Romance line of books that I have come to love. There is a hint of more stories to come from the Wendy League and I certainly hope that Krista Jensen is madly writing those tales now because I can't wait to read more!
Here's more about the book:
A TURN OF THE CENTURY ROMANCE
Lydia Wooding is fascinated by the latest inventions the new century brings, including motorcars. She longs for the independence they represent and believes that women should have a say in the future of the industry—just as they should have a say in suffrage, adventure, and, of course, love.
Spencer Hayes is a man of practicality and innovation, but he lacks the financial backing to make his dream a reality. When he contacts his childhood friend, Andrew Wooding, about a promising business venture, he is invited to Briarwall Manor to discuss the terms. Once there, he is surprised to find that Andrew's once shy, younger sister, Lydia, has grown into a young woman of beauty, wit, and a bit of fire. Even better, the two share a passion for motorcars.
Andrew, however, is wary of cars, having lost his parents in a tragic auto accident when he and Lydia were young. And he's not sure a relationship between his sister and Spencer is the best idea—not when Sir Lawrence is available and could match both Lydia's social status and her fortune.
Torn between risking their hearts and being loyal to their dreams in an era of whirlwind change, Spencer and Lydia anchor themselves with the determination they both share: to live life to its fullest.
Other books you may enjoy:
Visit Rachelle's Book Review Page to see all reviews HERE.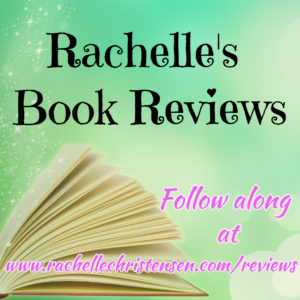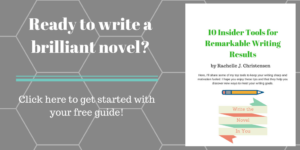 Follow Rachelle:
*Affiliate links used in post. All reviews shared are Rachelle's honest opinion.*