Book Thoughts by Rachelle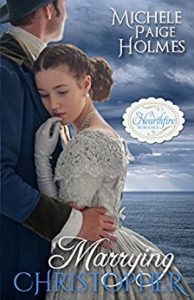 I'm a fan of Holmes's writing–she is an excellent spinner of romantic tales that are clean, sweet, and have the ability to take you away to another time and place.
First of all, isn't this cover lovely? I think it portrays the story nicely and really made me want to find out who Christopher was. I haven't read the other books in this series, but I didn't feel lost. I thought the intro part was a tad slow because the blanks were being filled in, but it's hard to do another way with a stand-alone series type of book, so I was excited to get into the meat of the story.
Michele Paige Holmes is talented at drawing up characters who have such incredible personas. I loved the strength of Marsali's character, and the way Christopher was so kind from the very beginning. I also love when a character does something unexpected, like when we first meet Lady Cosgrove's daughter.
The setting is definitely unique, aboard one of the first steam ships to cross the Atlantic!
There are many wonderful romantic moments in this book that will have you speed-reading to find out what happens to Marsali and Christopher. I'm excited to read the other books in the Hearthfire series, Saving Grace and Loving Helen.
Here's more about the book:
Having seen both his sisters Grace and Helen happily married, Christopher Thatcher is free to pursue his dream of life in America. With adventure in his heart and mind, he boards one of the first steamships set to cross the Atlantic in the record breaking time of only twenty-five days. Within the first two of those, his resolve—to avoid women and the complications they often bring to a man's life—falters when he meets Marsali Abbott, a young woman with a past even more troubling than his own. Whether from years of habit protecting his sisters, or simply because he feels drawn to Marsali, Christopher chooses to help her and becomes her friend. As the truth about what awaits Marsali in America becomes evident, he is faced with a more difficult choice, one that will impact their lives far beyond four weeks together at sea.
Other books you may enjoy:
Visit Rachelle's Book Review Page to see all reviews HERE.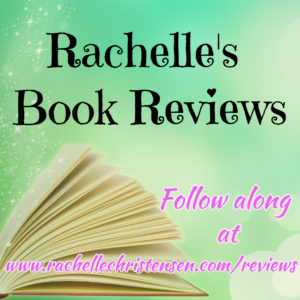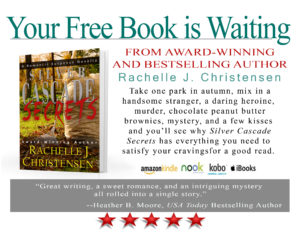 Follow Rachelle:
*Affiliate links used in post. All reviews shared are Rachelle's honest opinion.*

Don't miss a post! Subscribe to Rachelle's Blog.