Book Thoughts by Rachelle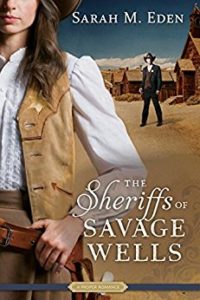 I love Sarah Eden's books! Her writing is stellar no matter the time period or type she writes in. Her latest proper romance is a slight departure from her Regency style of writing and more reminiscent of the award-winning Longing for Home books. The Sheriffs of Savage Wells was a delightful read full of witty banter, sparkling romance, and a mystery to boot! I loved the characters of Paisley Bell and Cade O'Brien and the way their romance developed amidst gun-slinging, neighborly battles over a chicken, and figuring out how to deal with a ribbon shop inside the town's jail.
As soon as I finished this book, I lent it to my aunt the next day and you'll probably find yourself wanting to share it too. So pick up a copy, do some early Christmas shopping and enjoy another soon-to-be classic from Sarah Eden.
Here's more about the book:
The small town of Savage Wells is barely big enough for the people who call it home; it certainly isn't big enough for more than one sheriff.
Yet when famed lawman Cade O'Brien rides into town, he finds he's not the only man ready to take on the job. What's more, one of his competitors is a woman.
Paisley Bell loves her town and the eccentric people in it. She's been the job to anyone else. Not only does she love the work, but she also needs the income to take care of her ailing father.
It's a true battle of the sexes, and sparks fly between the two as Cade and Paisley banter and boast, neither one ready to acknowledge the attraction they have for each other. But when Paisley's former beau shows up, along with a band of bank robbers, Savage Wells is suddenly faced with the kind of peril that only a sheriff can manage. Who will be man enough—or woman enough—to step up, claim the badge, and save the town?