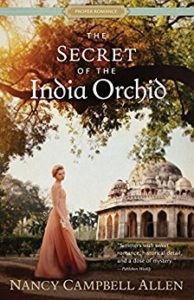 Book Thoughts by Rachelle
I enjoyed this book so much that I finished reading and already lent it out to my aunt! This book is part of the Proper Romance line which is a can't miss grouping of books. This novel also has a wonderful mystery full of suspicions, clues, hints, and everything I love to keep me reading late into the night.
I loved the setting of this novel. Reading about India in a time where it was treated as almost a summer-home for the British was so interesting. The setup with Anthony Blake was well-done and I was rooting for him from the start. Sophia's character is fresh, determined, and smart as she faces the mystery surrounding her heart, Anthony, and the deeper mystery involving murder and intrigue.
This is a satisfying read, a clean romance, and I look forward to more from Nancy Allen.

Here's more about the book: The Secret of the India Orchid
Anthony Blake, the Earl of Wilshire, is in love with his best friend's sister, Sophia Elliot. But his plans to court her are put on hold when he is forced to resume his role as an undercover spy for the Crown. A secret document listing the names of the entire network of British spies—including his own—has been stolen. To protect Sophia, Anthony cuts off all ties to her and exchanges his life as an honorable earl for the facade of a flirtatious playboy.
Heartbroken and confused, Sophia travels to India, hoping to find healing in one of the most exotic regions of the British Empire. But the exotic land isn't as restful as she had hoped. Instead, she finds herself embroiled in a mystery of a missing sea captain, a possible murder, and a plot that could involve the prince of India. And when Anthony appears at the British Residency, asking questions and keeping his distance from her, she is stunned.
She still loves him, and, in her heart, she knows he loves her too. But how can she rebuild her relationship with him if he won't confide in her? Does she dare offer her heart to him a second time, or will their love be lost under the India sun?
Other books you may enjoy:
Visit Rachelle's Book Review Page to see all reviews and book thoughts 
HERE
.