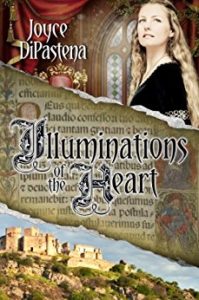 Book Thoughts by Rachelle
I love doing book reviews especially because I often get a free book! Read on to find out another reason why I love doing book reviews–this one has to do with a free book for a lucky reader! When I received Joyce DiPastena's book, Illuminations of the Heart, in the mail I fell in love with the cover. It is gorgeous—love that castle in the background. Then I looked at how thick the book was, how tall the pile of books I'm supposed to be reviewing and reading, and the date I was supposed to get the book reviewed.
"Oh-oh, how will I ever be able to finish reading this 425 page book in time?" I said to my husband. I even emailed the editor and asked if I could move my review date to a later time. She told me to try my best—probably because she knew what would happen when I started reading it.
When I started reading Illuminations of the Heart, I was completely hooked by chapter two. I thought about locking myself in a room and hiding from my children so I could keep reading, but alas I had to eek out my reading minutes whenever I could to finish this awesome book!
Illuminations of the Heart is definitely a romance, but it has enough adventure, intrigue, sword-fighting, etc. to keep the pages turning.
Joyce definitely knows how to write a good romance to keep you on the edge of your seat. I used to never read much romance because it seemed that most of it is trashy and contains explicit and graphic scenes. What a pleasure to read a clean romance—still has lots of great kissing, but I didn't have to be scared to turn the page because I knew that the book was tastefully written.
I liked the medieval language Joyce used, Nay, I loved it! I felt transported back in time and learned quite a bit about medieval customs and enjoyed the inner look at the workings of the castle and countryside's of France.
Siri's character was full of life and a vibrant energy and it was so fun to root for her as she encountered several dangerous situations. Joyce did a wonderful job of keeping me wondering if Siri really would get her man or not.
If the book would've been 200 pages longer, I would've kept reading—yes it was that good.
Here's more about the book:

"Clothilde." He spoke the name on a breath like a prayer. Then he lowered his head and kissed her.
Her heart is lost in that first embrace, her world is shaken to its foundations. There is just one problem; her name is not Clothilde. It is Siriol de Calendri. Trained in the art of illumination in the far-off city of Venice, Siri is directed by her late brother's will to the county of Poitou in France, where she enters the guardianship of her brother's friend Sir Triston de Brielle. Once in Poitou, Siri hopes to find employment in an illuminator's shop – until Triston unexpectedly snatches her heart away with a kiss.
Triston is a man of quiet honor and courage, but the guild he carries for the death of his late wife, Clothilde, has left him numb and hesitant to love again. Worse yet, Siri bears an uncanny resemblance to his lost love. Or does she? Her merry laughter and twinkling eyes are very different from his late wife's shy smiles and quiet ways. Yet when he gazes into Siri's face, all he sees is Clothilde.
Then Triston's past returns to threaten them both. Will his tragic life with Clothilde be repeated with Siri? Trapped between the rivalry of the king's sons on the one hand and a neighbor out for vengeance on the other, Triston realizes it would be safer to send Siri away. But how can he bear to lose her again?
Siri is determined not to be cast off and not to live in another woman's shadow. She has illuminated many a priceless book with pen and paint. But can her own vibrant spirit illuminate the darkness in Triston's soul and make his heart beat for her alone?
Other books you may enjoy:
Visit Rachelle's Book Review Page to see all reviews HERE.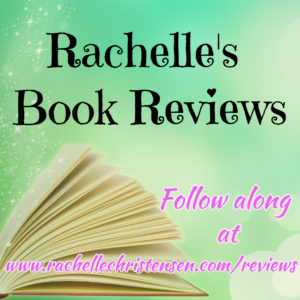 Follow Rachelle:
*Affiliate links used in post. All reviews shared are Rachelle's honest opinion.*