Book Promo: Christmas in July
It's that time of year when the heat can be almost unbearable! Doesn't curling up with a sweet Christmas romance sound nice? There's a new site in town, dedicated to helping readers find their perfect sweet and clean romance. Read Sweet Romances is hosting a Christmas in July sale and TWO of my books are just 99 cents for a limited time! Don't miss out on this sale if you're in the mood for one of these clean romances right now, or even if you want to hold on to it until December. Be sure to stop by and see what other books are celebrating Christmas in July!
A Victorian Christmas novelette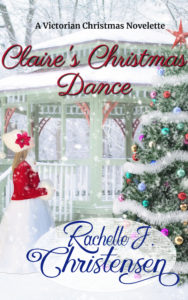 Claire has always dreamed of dancing at the Fielding House Christmas Ball, but she never dreamed she might dance into the arms of a gentleman not of her class.

A heartwarming and inspirational romance
Anika Fletcher hates Christmas–its promises of good tidings and hope for the future are as tinseled as the ornaments on Kenworth's Hope Tree. Despite her feelings, Anika wants to maintain her daughter's faith in the magic of the season and gladly accepts a second job working with the handsome Carlos Rodriguez to restore Kenworth's old fashioned soda fountain. Carlos is no stranger to hard times and slowly shares his life of light and joy with Anika as they work together. Just as her fragile soul begins to feel hope again, an ill-timed act of charity changes everything. Anika isn't sure who she can trust or if hope is worth nurturing–especially at Christmas when it's easy to enjoy a kiss and believe love can last longer than the season.

Follow Rachelle: